Get Started at Sarah Belderes DDS
Our practice has a close-knit, family feel to it, and everyone knows your name when you arrive. We'll offer you water and enjoy making sure that you feel comfortable. Waiting times are kept to a minimum, and someone is with you at all times. You're taken back promptly to start your appointment.
Examination and Cleaning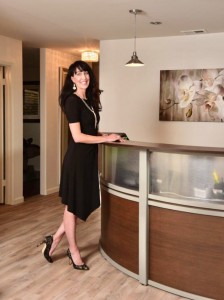 We ask that you complete a health history form before arriving, which can be found on our website. If you've had dental X-rays taken recently, you can either bring them in with you or email them to us at sarahbelderesdds@gmail.com. We'll update any X-rays and talk to you about your health history.
We will verify your insurance coverage while our dental hygienist cleans and evaluates your teeth. You'll meet Dr. Belderes for an examination. We'll address any concerns you have and answer your questions. If further treatment is needed, we'll put together a plan and discuss future visits.
A dental cleaning and examination take about an hour.
Payment Information
We accept and are preferred providers for many PPO insurance plans. If you are not using insurance coverage for your visit, in-house payment plans or CareCredit® are available. We also offer the ability to pay your bill online.
Making You Feel Relaxed
We'll take the time to understand your concerns and discuss any past anxieties you may have felt about seeing the dentist.
By addressing your fears, we can work on overcoming them. We'll talk you through the visit, showing you what we're going to do with a gentle touch. Though you may have had a negative experience before at the dentist, we find that we can help retrain your brain to understand that your appointments with us are different.
Some of our patients require a form of sedation, which we are happy to provide.
Contact us today and book your appointment using our $179 new patient special! Flexible hours are available for your convenience.
---
Get Started at Sarah Belderes DDS | Dentist Solana Beach | (858) 523-9800